Karsten Lehmann
9 July 2009 16:08:21
As a prerequisite for our
XPages series
here is a tool that will really save you time.
We will work a lot in the Java perspective of DDE for our XPage development. To switch to this perspective, you can click "Window/Open Perspective" in Designer and select the Java perspective in the upcoming selection dialog: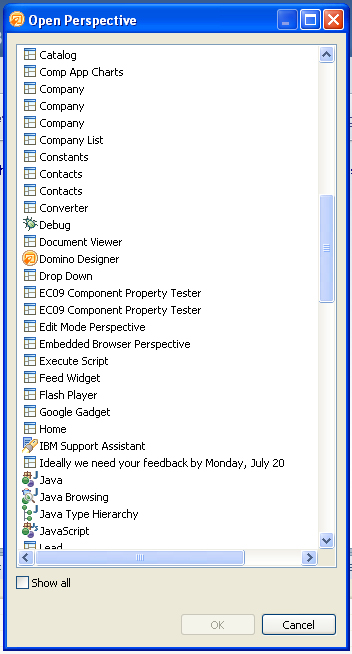 Do you see it? These are a lot of perspectives. In fact, this dialog shows all the Eclipse perspectives for both Notes client and DDE. No filtering is applied to the list, so switching from Designer to Java perspective and back takes a while. After doing this a few times, you are really going nuts. ;-)


Solution
Thanks to the Eclipse background of DDE, it's quite easy to add a toolbar to switch between the most popular perspectives (Designer, Java, Debug) with one mouse click: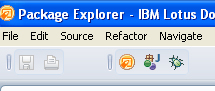 Download
The archive contains an Eclipse Update Site with the toolbar definition and code:
Mindoo_DDE_Perspective_Switcher.zip
And for the interested, here is the Eclipse workspace with the source code:
Mindoo DDE Perspective Switcher Workspace.zip
Installation
To install the toolbar, you need to insert the line "com.ibm.notes.branding/enable.update.ui=true" in the plugin_customization.ini file in the directory "...\IBM\Lotus\Notes\framework". Then restart the client, select "File/Application/Install" and add the directory of the Update Site.
I did not create a widget based installation for this tool, because I expect developers will be able to do the manual installation.
Writing the tool took half an hour. Actually, finding out how to restrict the toolbar's visibility to the DDE took most of the time, because at first, you could also see it in the Notes client. DDE and the Notes client share the same Eclipse workspace, so plugins that you add to the DDE are automatically also active in the Notes Client.